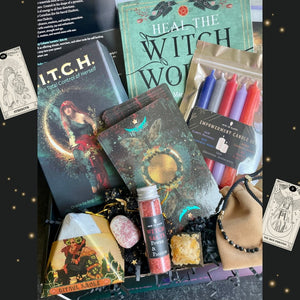 IMPORTANT: Our monthly box is now available with or without a Tarot/Oracle deck!
(Both options will have the same items, the only difference being the deck if you choose to exclude it.)... This is an option for those who don't want a deck each month, but still want to receive a box of goodies! 

Featuring the newly released, "W.I.T.C.H." Oracle by Angi Sullins and other tools to harness and strengthen your own personal power.

From the deck: "A W.I.T.C.H. is a Woman. In. Total. Control. of Herself. She has shifted her allegiance from pleasing to pleasure, from subservient to subversive, through the very act of claiming her inner knowing as her highest authority. She's willing to abandon everyone else's expectations before she'll abandon herself. She's stopped fearing her path and started blazing it, loyal to the visions in her head and the longing of her heart. Become mistress of your own power with the wisdom of this 44-card deck with oracular guidance from the Witchery Academy, and five original poems by muse Angi Sullins. You were born sovereign, and your life is the castle you occupy. It's time to take back the throne, woman."
One time box. Does not renew.