July's theme is:



"Good Fortune"



THIS BOX FEATURE'S THE NEWLY RELEASED:

"Auspicious Symbols Oracle Deck", for luck and healing. 
This fun jam-packed box will contain items focused on luck magick, lucky symbols, etc. You don't want to miss it!

Very limited number of spots open. Order by July 21 or while supplies last!
Expect to ship between July 15-20th (sooner if possible).
IMPORTANT INFO:
Subscriptions auto renew on the last day of the month prior to box shipping, unless canceled. For example July 31 for August's box.

One-Time Purchases do not auto renew. 
Always a fantastic deal
You always get a great deal of witchy goodies, gorgeous jewelry, an awesome deck and new crystals! Plus tons of other fun things. Every month I excitedly look forward to the new box.
Worth Every Penny
Their tarot boxes are always a wonderful surprise. Each item is thoughtful and relevant to the theme. Definitely worth the cost!
Great Box!
I've gotten a couple of the boxes so far and have loved them! Definitely worth the price! I can't wait to use this deck in my readings.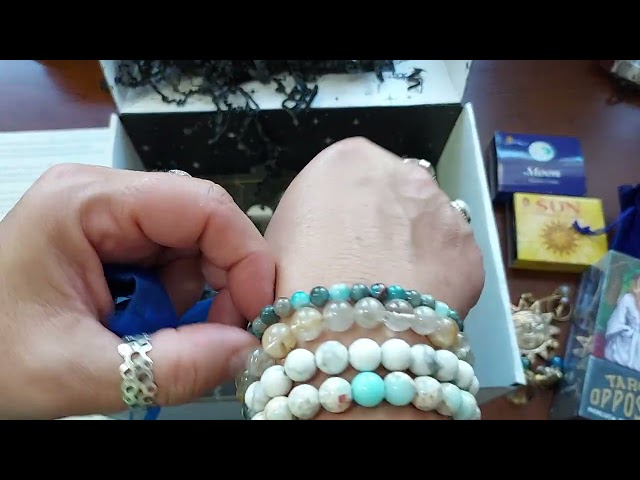 Moon beams and Sunshine
This is an amazing and generous box this month. The deck is unique, the artwork is attracyive! I'm sure it will encouragemore indepth readings! The Sun hanging charm is pretty and I hope it brings warmth and sunshine to everyone. The Tarot by the Moon book looks very informative and looks like i'll learn alot to bring better structure to my readings. Reallylove everything this time except the incense cones. I must be super picky about scents because many of the ones we getjust don't vibe with me. That's ok, I gift them away. Thank you for the hard work you do for us!!