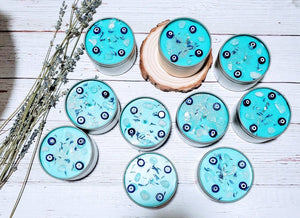 As featured in our Protection Mystery box!
"The evil eye is a curse believed to be cast by a malevolent glare, usually given to a person when they are unaware. Many cultures believe that receiving the evil eye will cause misfortune or injury. Talismans created to protect against the evil eye are also frequently called "evil eyes". This is the perfect candle that will help to protect you against evil eye, jealousy or negative vibes."
Soy Vegan Wax Topped with clear quartz and cornflowers, known to bring clarity to your mind with a beautiful scent of white Currant. The heart of white Currant is the smell of juniper and geranium which livens up any room.
All candles are hand poured with 100% Vegan Soy Wax.
Light this candle up while taking a nice bath with our all natural floral bath soaks.