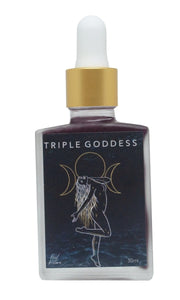 As featured in our "Goddess Magick" box!
This playful formula is the anecdote to fast-paced, modern life. It encourages you to be yourself, to take up space, to be wild, to shine your light, and share your gifts with the world. Each day is a reminder that you can do anything you set your heart to.
Use this elixir to birth new projects or breath fresh air into existing ones.
+ May lower inflammation
+ May support cell regeneration
+ Adaptogenic tonic
+ May help being in the present moment
+May connect to our senses to bring about change
+ May help with tuning in to your creative energy
+ May aid in balancing your Sacral Chakra
Ingredients: Butterfly Blue Pea (Clitoria ternatea), Schisandra Berry (Schisandra chinensis), Hibiscus (Hibiscus sabdariffa), Organic Cane Alcohol, Spring Water, Honey Suggested Use: 2-3 dropperfuls as needed. Can be added to water, tea, or drink of choice.